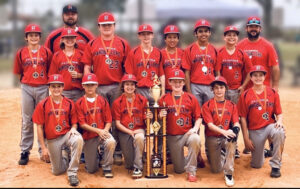 The Florida Hardballers Youth Program was started in the spring of 2016 to develop talent from the 8U-14U age groups.
Our goal is to provide an organized, top baseball program for all players who desire to be better prepared for the middle and high school levels at the Youth Level. Players receive professional-level training that emphasizes fundamentals, high integrity, and dedication within a team framework. We take pride in developing our players and not overextend them in terms of the number of tournaments played.
At this level, it is imperative to balance fundamentals, training, and game time. Our belief for proper development during our tournament seasons is that we play two tournaments per month and practice twice a week around tournament dates. Sufficient rest from baseball and time to play other sports are essential for the youths' development.
If you are interested in learning more about the Florida Hardballers Youth Program, click here contact us or email us flhb61@gmail.com